Learn Golf
" Every Golfer, from beginner to advanced player, benefits from a professional golf "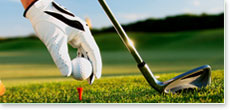 Learning how to play the game of golf can seem very complicated for beginners. Long holes with hazards, tricky greens that call for difficult-to-execute pitch shots and undulating greens cause many people to look at the game and wonder how anyone ever gets through 18 holes. However, if you learn the basics of the golf swing and the fundamentals of the game, you will have a chance to improve fairly quickly and become a decent golfer who enjoys time on the course. Golf training on at least three levels, is imperative for not only professional players, but as much for avid amateurs and weekend specialists.
From basic instruction like grip, stance, alignment and swing fundamentals, to shot making skills for your short game and course management.